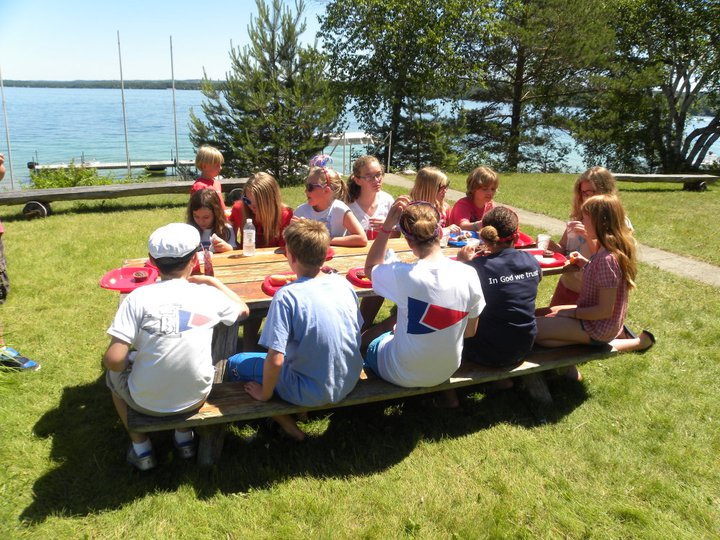 About the Sailing School
The Sailing School is in operation from the middle of June through the middle of August and is designed to accommodate both students whose sailing interests are primarily recreational as well as those who are interested in racing.
Children (ages 8 to 16) are invited to participate; membership in the Leland Yacht Club is not a requirement. Instruction takes place in Butterfly boats and Flying Juniors (FJs). All of these boats are self-rescuing, and water safety is a key element in the instruction.
Our instructors have experience in working with children in addition to their sailing expertise. Many of them have been trained and certified by the US Sailing Association. Most of them are graduates of the Leland Yacht Club sailing program.
Our Sailing School is organized into two classes:
LEVEL 1 (Morning Class, for beginners)
9:30am to 12:00pm - Tu, W, Th, F

LEVEL 2 (Afternoon class, for intermediate and advanced sailors)
1:00pm to 3:30pm - Tu, W, Th, Fri
What level is best for my child?
Level 1 (Morning Class): We offer beginner sailing school in which kids learn the basics of sailing from a combination of on-shore activities and instruction out on the lake. Kids sail with a sailing instructor until they feel comfortable taking a boat out by themselves. The Head Sailing Instructor will let kids know when they seem ready to move up to our afternoon class. Both the pontoon boat and the Boston Whaler are out on the water to keep a close eye on all of our sailors.
Level Two (Afternoon Class): Stronger winds in the afternoon provide more experienced sailors with plenty of challenges to improve their skills. All level two sailors sail without an instructor; however, assistance is available from the instructors who are out on the chase boats. We ask that you do not bring your kids to afternoon sailing without consulting an instructor first. If level one is too easy for someone, we can quickly move that child up to level two.
OTHER SAILING SCHOOL FAQ:
Sailing School Cost:
Member Fee: $30
Non-member fee: $45
Payment:
Non-members can pay at the Leland Yacht Club.
Members can pay at the Leland Yacht Club, OR will be invoiced for the days that their children attend.

What To Bring:
Students should bring the following items to class each day, regardless of weather conditions.
SUN PROTECTION: Please remember to apply sunscreen prior to arrival. Your sailor should have a hat and lots of sunscreen (including some for re-application throughout the class if needed). Sunglasses are also a great idea.
LIFE JACKET: Each sailor must provide their own, snug-fitting, Coast Guard Certified Personal Flotation Device (PFD). The more comfortable the life jacket is, the more comfortable your child will be on the water. Recommended PDFs include

Gill Front Zip PDF ($99.95) Click Here (You get 10% off all of Gill's products as a US Sailing member).
Mustang makes several lifejackets- Click Here, all are really good.
LL Bean Discovery PFD ($59.99). I actually bought this one for my daughter when she was younger. Click Here

SWIMWEAR & CHANGE OF CLOTHES: Swimwear should be worn under street clothes to the program. We recommend a change of clothing as well. Students WILL GET WET, and if wet, COLD. Please note: Every sailor will at least get wet on the first day. All sailors must pass a float test to continue participation in the program.
FOUL WEATHER GEAR: A windbreaker or rain jacket is also recommended. We sail rain or shine, except in the case of severe weather (thunderstorms or high winds), in which case, we will move our instruction indoors.
FOOTWEAR: Closed-toe shoes or aqua socks are required, NO EXCEPTIONS. TEVA type sandals or flip flops are prohibited.
DRINKS & SNACKS: It is important your sailor has sufficient snacks and a water bottle for the day. They will be encouraged to drink a lot of water to stay hydrated.
Private Lessons:
Adult, children, and family lessons are available through our Private Lesson Program. Click here
More Information:
To contact the instructors during the regular season, use the Club phone, 231-256-2618. The best time to call is just before or after a scheduled sailing clinic, but you can leave a message anytime. Or you can send an email to lelandyachtclubinfo@gmail.com